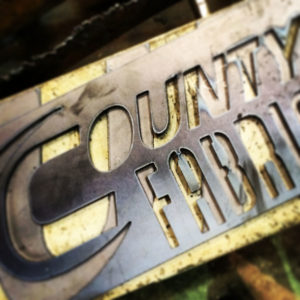 Welding Machines and Welding Capabilities: Our shop has full SMAW, FCAW, GTAW and GMAW capabilities. We employ full time AWS D1.5 certified welders who are certified to SMAW and FCAW, including 3 full-time weld inspectors and immediate access to a full-time CWI.
With use of our CNC Plasma Cutting Machine, we have the capability to cut steel plate up to 1.5" thick, as well asthe capability to cut stainless steel and aluminum up to 1" thick. Utilizing CNC-guided OXY/fuel cutting, we also have the capability to cut steel plate up to 6″ thick, as well as circle track cutting and beveling capabilities.
We stock all thicknesses of steel plate in both A36, 709, 992 and Grade 50. We have a full stock of tubing, angle, channel, bar and pipe.
If you have any questions regarding our capabilities, feel free to contact us at (914) 741-0219 or via e-mail at info@countyfabricators.com.
Roll Bending Capacity

◦6′ X 6″ X 1/2″ Angle
◦8″ X 1/2″ Flat
◦5″ Channel
◦5″ Round tube
◦4″ Square and Rectangular Tubing

Threading Capacity

up to 1-1/2″ on steel rod

Punching Capacity

Drilling Capacity

up to 6″ diameter thru 4″ thickness

Plate and Pipe Beveling

Sawing Capacity

Brake Bending Capacity

Cold Saw Capacity

Shearing Capacity

Vertical sawing Capacity